Glove Specification Guide
Technical Information: Here at JustWorkGloves, we appreciate that safety gloves are an essential part of personal protective equipment for many workers, and that all manner of everyday tasks cannot be performed safely without them. Using our hands every day for arduous tasks can be tough, but choosing the correct type of safety gloves can help minimise any discomfort during work and maximise productivity.
We believe all of our customers should be able to make an informed decision on thier choice of work gloves. This is why, for all our safety gloves, we provide you with technical specifications, and an easy to use size guide to assist you in finding the perfect choice of work glove for you.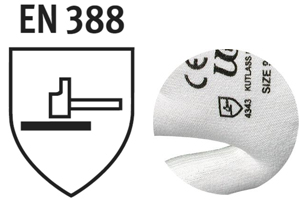 BS EN 388 Information: To assist the users in the selection of products for a particular application, the EN 388 standard gives an indication as to the performance of the glove in 4 related criteria, by assigning them scores. The criteria are abrasion resistance (1-4), cut resistance (1-5), tear resistance (1-4) and puncture resistance (1-4). The scores for each criteria are then displayed below a pictogram as shown below - this can be found on the back of gloves or on the packaging. (See right)
To assign EN 388 mechanical resistance scores to work gloves, they are tested by an external body in a controlled test environment. The tests are as follows:
Abrasion Resistance (1-4)
Abrasion testing is performed by using samples from key areas of the gloves, such as the palm or fingertips. The glove samples are then rubbed backwards and forwards over an abrasive material, noting the number of cycles completed before breakthrough occurs. The number of cycles completed is what determines a gloves score in this area and thus how resistant it is to abrasions. Please see the table below for an indication of what performance is required to attain each level, 1 is the lowest level, 4 is the highest.
Cut Resistance (1-5)
The cut resistance of a work glove is determined by using a sample of the gloves, a control sample, and a hardened tungsten steel carbide blade. The blade is run back & forth over the sample of the gloves and the control sample with a constant pressure. The cut performance value gives a relative performance of the glove material against a standard or reference material (ascertained by the control sample). The cut resistance performance scale is the only one that goes up to a maximum of 5, level 1 is the lowest, 5 is the highest. To achieve Level 5 cut resistance the glove must be at least 20 times more resistant than the control sample.
Tear Resistance (1-4)
The tear resistance is a relative measure of the force required to tear samples of the gloves. Samples of the gloves are taken and precut to facilitate the tearing test. The level of protection which a glove offers is a reflection of the force required to tear both along and across the direction that the material is oriented in the sample, measured in newtons. Level 1 is the lowest level of protection, level 4 is the highest.
Puncture Resistance (1-4)
To determine puncture resistance, a 4.5mm diameter steel pin stylus with a 30 deg point is pushed through a sample of the glove material. The greater the pressure in newtons required to puncture the surface of the sample, the greater the resistance and thus the higher the score. Level 1 is the lowest level of protection, level 4 is the highest.
Relative Performance Table: The below table gives the rough values required for different levels of each separate test. These values and the tests in their entirety are designed to enable customers to make judge a specific gloves suitability for a specific task or application.
Test
Performance Level
1
2
3
4
5
Abrasion resistance (cycles)
100
500
2000
8000
-
Blade cut resistance
1.2
2.5
5
10
20
Tear resistance (newtons)
10
25
50
75
-
Puncture resistance (newtons)
20
60
100
150
-
Disposable Gloves - Choosing The Right Quality Of Glove: Our disposable gloves are regulated under two categories within the 'AQL' International Quality Standard; Medical or Non-Medical.
'AQL' is an abbreviation for Acceptable Quality Level and denotes a statistical measure of the consistency or quality predictor of manufactured goods. Within the context of disposable gloves this specifically refers to the prevalence of pinholes and the barrier protection confidence level. The lower the AQL number, the higher the quality of the glove:
An AQL of 1.5 or lower refers to a glove that is fit for medical purposes
An AQL of 4.0 refers to a glove that is fit for non-medical or industrial purposes
Medical grade gloves provide a more effective barrier and are therefore better suited for higher risk or more demanding applications. Industrial grade gloves still offer very effective protection and can be used for lower risk tasks.Our Standard non-sterile Latex, Vinyl and Nitrile Gloves all provide AQL 1.5 medical grade quality at prices that reflect fantastic value for money.
Choosing The Right Size Of Glove: Choosing the right size of glove is essential for ensuring comfort, dexterity & safety when using work gloves. Please see our size guide below to find the right size of glove for you!

Safety Warnings
A number of our safety gloves, even those with Cut Level 5 resistance are extremely difficult to cut but are NOT cut proof, therefore they must NOT be used with moving or serrated blades
Many of our safety gloves should NOT be used with liquids as they are not designed for this purpose. Only use a glove with liquids if it is stated that it is safe to do so.
Some of our gloves contain natural rubber latex which may produce an allergic reaction in some individuals. If affected please discontinue use immediately and seek medical advice. Users with a known sensitivity to rubber or latex products should avoid contact.
Many of our safety gloves, especially those with high cut resistance posses extremely high tenstile strength which means they will normally not rip if caught in moving machinery. Do not use with or near to moving machinery.
If you have any queries as to whether a glove is suitable for a specific tasks please call our sales team on 0800 1777 118 who will be happy to advise you.